MOVING THOUGHTS
Maybe God wants us to meet a few wrong people before meeting the right one so that when we finally meet the right person, we will know how to be grateful for that gift.
When the door of happiness closes, another opens, but often times we look so long at the closed door that we don't see the one which has been opened for us.
The best kind of friend is the kind you can sit on a porch and swing with, never say a word, and then walk away feeling like it was the best conversation you've ever had.
It's true that we don't know what we've got until we lose it, but it's also true that we don't know what we've been missing until it arrives.
Giving someone all your love is never an assurance that they'll love you back! Don't expect love in return; just wait for it to grow in their heart but if it doesn't, be content it grew in yours. It takes only a minute to get a crush on someone, an hour to like someone, and a day to love someone, but it takes a lifetime to forget someone.
Don't go for looks; they can deceive. Don't go for wealth; even that fades away. Go for someone who makes you smile because it takes only a smile to make a dark day seem bright. Find the one that makes your heart smile.
There are moments in life when you miss someone so much that you just want to pick them from your dreams and hug them for real!
Dream what you want to dream; go where you want to go; be what you want to be, because you have only one life and one chance to do all the things you want to do.
May you have enough happiness to make you sweet, enough trials to make you strong, enough sorrow to keep you human, enough hope to make you happy.
Always put yourself in others' shoes. If you feel that it hurts you, it probably hurts the other person, too.
The happiest of people don't necessarily have the best of everything; they just make the most of everything that comes along their way.
Happiness lies for those who cry, those who hurt, those who have searched, and those who have tried, for only they can appreciate the importance of people who have touched their lives.
Love begins with a smile, grows with a kiss and ends with a tear. The brightest future will always be based on a forgotten past, you can't go on well in life until you let go of your past failures and heartaches.
When you were born, you were crying and everyone around you was smiling. Live your life so that when you die, you're the one who is smiling and everyone around you is crying.
A Morning Prayer
[Submission by: G. M. John]
This prayer is humbly submitted to enrich each day that adds sufficient strength to our faith in our Lord Jesus Christ to carry us through the day in peace and comfort.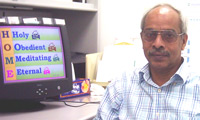 Lord Jesus,

For each step I take today, for each word I say today, for your divine guidance today, for your divine wisdom today, I surrender myself at your feet this morning.

Allow me today to see only those who you desire me to. Allow me today to speak only those words you desire me to. Allow me today to see only those you desire me to help. Allow me today to see only those you desire me to love. I surrender myself at your feet this morning.

Save me today Lord from sickness. Save me today Lord from accidents. Save me today Lord from all sins. Save me today Lord from all evil forces. I surrender myself at your feet this morning.

Shower upon me today your grace to deal with others as I wish others to me. Shower upon me today your gift to forgive others as I wish others to me. Shower upon me today your gracious love to control my thoughts, words and deeds. I surrender myself at your feet this morning.

Help me today to be kind to all. Help me today to be patient to all. Help me today to strengthen my faith in you. Help me today to strengthen my hope in you. I surrender myself at your feet this morning.

I thank you this morning for the life, for the home, for the food, for the clothing for all your love, kindness and gifts and above all for giving me your only son Jesus Christ to save me from this sinful life.
Carry me in your arms throughout this day. I surrender myself at your feet this morning.

[Submission by: G. M. John]
CHRISTWAS LOVE
Each December, I vowed to make Christmas a calm and peaceful experience. I had cut back on nonessential obligations - extensive card writing, endless baking, decorating, and even overspending. Yet still, I found myself exhausted, unable to appreciate the precious family moments, and of course, the true meaning of Christmas.
My son, Nicholas, was in kindergarten that year. It was an exciting season for a six year old. For weeks, he'd been memorizing songs for his school's "Winter Pageant". I didn't have the heart to tell him I'd be working the night of the production. Unwilling to miss his shining moment, I spoke with his teacher. She assured me there'd be a dress rehearsal the morning of the presentation. All parents unable to attend that evening were welcome to come then.
Fortunately, Nicholas seemed happy with the compromise. So, the morning of the dress rehearsal, I filed in ten minutes early, found a spot on the cafeteria floor and sat down. Around the room, I saw several other parents quietly scampering to their seats. As I waited, the students were led into the room. Each class, accompanied by their teacher, sat cross-legged on the floor. Then, each group, one by one, rose to perform their song.
Because the public school system had long stopped referring to the holiday as "Christmas," I didn't expect anything other than fun, commercial entertainment - songs of reindeer, Santa Claus, snowflakes and good cheer. So, when my son's class rose to sing, "Christmas Love," I was slightly taken aback by its bold title. Nicholas was aglow, as were all of his classmates, adorned in fuzzy mittens, red sweaters, and bright snowcaps upon their heads. Those in the front row- center stage - held up large letters, one by one, to spell out the title of the song.
As the class would sing "C is for Christmas," a child would hold up the letter C. Then, "H is for Happy," and on and on, until each child holding up his portion had presented the complete message, "Christmas Love." The performance was going smoothly, until suddenly, we noticed her; a small, quiet, girl in the front row holding the letter "M" upside down - totally unaware her letter "M" appeared as a "W".
The audience of 1st through 6th graders snickered at this little one's mistake. But she had no idea they were laughing at her, so she stood tall, proudly holding her "W". Although many teachers tried to shush the children, the laughter continued until the last letter was raised, and we all saw it together. A hush came over the audience and eyes began to widen. In that instant, we understood - the reason we were there, why we celebrated the holiday in the first place, why even in the chaos, there was a purpose for our festivities. For when the last letter was held high, the message read loud and clear:
CHRIST WAS LOVE
Author unknown; submitted by member 111, 15d1s1 P. G. Mathew (Satish)
Did you read the title "right" first time? Most likely, you did not.

1. Wake Up !! Decide to have a good day. "This is the day the Lord hath made; let us rejoice and
be glad in it." Psalms 118:24
2. Dress Up !! The best way to dress up is to put on a smile. A smile is an inexpensive way to
improve your looks. "The Lord does not look at the things man looks at. Man looks
at outward appearance, but the Lord looks at the heart." I Samuel 16:7
3. Shut Up!! Say nice things and learn to listen. God gave us two ears and one mouth, so He must
have meant for us to do twice as much listening as talking. "He who guards his lips
guards his soul." Proverbs 13:3
4. Stand Up!! For what you believe in. Stand for something or you will fall for anything. "Let us not
be weary in doing good; for at the proper time, we will reap a harvest if we do not
give up. Therefore, as we have opportunity, let us do good..." Galatians 6: 9-10
5. Look Up !! To the Lord. "I can do everything through Christ who strengthens me".
Philippians 4:13
6. Reach Up !! For something higher. "Trust in the Lord with all your heart, and lean not unto your
own understanding. In all your ways, acknowledge Him, and He will direct your
path." Proverbs 3:5-6
7. Lift Up !! Your Prayers. "Do not worry about anything; instead, PRAY ABOUT EVERYTHING."
Philippians 4:6

[Author unknown; submitted by Koshy Easo]
Psalms 23, 'A Computerized Version'
The Lord is my programmer; I shall not crash.
He installed His software on the hard disk of my heart; all of His commands are user-friendly.
His directory guides me to the right choices for His name's sake.
Even though I scroll through the problems of life, I will fear no bugs, for He is my backup.
His password protects me.
He prepares a menu before me in the presence of my enemies.
His help is only a keystroke away.
Surely goodness and mercy will follow me all days of my life, and my file will be merged with His and saved forever.
Amen.
[Author unknown; submitted by Koshy Easo]

35 WAYS TO REDUCE STRESS
1. Pray. 
2. Go to bed on time. 
3. Get up on time so you can start the day unrushed. 
4. Say "No" to projects that won't fit into your time schedule, or that will compromise your mental health 
5. Delegate tasks to capable others. 
6. Simplify and un-clutter your life. 
7. Less is more. (Although one is often not enough, two are often too many.) 
8. Allow extra time to do things and to get to places. 
9. Pace yourself. Spread out big changes and difficult projects over time; don't lump the hard things all together. 
10. Take one day at a time. 
11. Separate worries from concerns. If a situation is a concern find out what God would have to do and let go of the anxiety.
      If you can't do anything about a situation ... forget it. 
12. Live within your budget; don't use credit cards for ordinary purchases. 
13. Have backups; an extra car key in your wallet, an extra house key buried in the garden, extra stamps, etc., 
14. K.M.S. (Keep Mouth Shut). This single piece of advice can prevent an enormous amount of trouble. 
15. Do something for the Kid in You everyday. 
16. Get enough exercise. 
17. Eat right. 
18. Get organized so everything has its place. 
19. Listen to a tape while driving that can help improve your quality of life. 
20. Write thoughts and inspirations down. 
21. Every day, find time to be alone. 
22. Having problems? Talk to God on the spot. Try to nip small problems in the bud. 
      Don't wait until it's time to go to bed to try and pray. 
23. Make friends with Godly people. 
24. Keep a folder of favorite scriptures on hand. 
25. Remember that the shortest bridge between despair and hope is often a good "Thank you, God!" 
26. Laugh. 
27. Laugh some more! 
28. Take your work seriously, but yourself not at all. 
29. Develop a forgiving attitude (most people are doing the best they can). 
30. Be kind to unkind people (they probably need it the most). 
31. Sit on your ego. 
32. Talk less; listen more. 
33. Slow down. 
34. Remind yourself that you are not the general manager of the universe. 
35. Every night before bed, think of one thing you're grateful for that you've never been grateful for before. 
      GOD HAS A WAY OF TURNING THINGS AROUND FOR YOU. 
Real Management
How well do you tackle problems that obstruct your way? Observe how one master does it...
Laloo talks to his son.

Laloo: I want you to marry a girl of my choice
Son: I want to choose my own bride.
Laloo: But the girl is Ambani's daughter.
Son: Well, in that case... I can consider the idea..
Next Laloo approaches Ambani.
Laloo: I have a husband for your daughter.
Ambani: But my daughter is too young to marry.
Laloo: But this young man is a vice president of the World Bank.
Ambani: Ah, in that case...I can give it a thought.
Finally Laloo goes to see the president of the World Bank.
Laloo: I have a young man to be recommended as a vice president.
President: But I already have more vice presidents than I need.
Laloo:  But this young man is Ambani's son-in-law.
President: Really ? in that case I will certainly think on it...

This is called Real Management .......
Holy Humor
1. There was a church that had problems with outsiders parking in its parking lots, so they put up a sign:
Church Car Park - For Members Only. Trespassers will be baptized!
2. "No God - No Peace. Know God - Know Peace."
3. "Free Trip to heaven. Details Inside!"
4. "Try our Sundays. They are better than Baskin Robbins."
5. "Searching for a new look? Have your faith lifted here!"
6. An ad for one Church has a picture of two hands holding stone tablets on which the Ten Commandments are inscribed
and a headline that reads: "For fast, fast, fast relief, take two tablets."
7. When the restaurant next to another Church put out a big sign with red letters that said, "Open Sundays," The church
reciprocated with its own message: "We are open on Sundays, too."
8. "People are like tea bags -- you have to put them in hot water before you know how strong they are."
9. "Fight truth decay -- study the Bible daily."
10."How will you spend eternity - Smoking or Nonsmoking?"
Four wives of a king
Once upon a time there was a rich King who had four wives. He loved the 4th wife the most and adorned her with rich robes and treated her to the finest of delicacies. He gave her nothing but the best. He also loved the 3rd wife very much and was always showing her off to neighboring kingdoms. However, he feared that one day she would leave him for another. He also loved his 2nd wife. She was his confidant and was always kind, considerate and patient with him. Whenever the King faced a problem, he could confide in her, and she would help him get through the difficult times. The King's 1st wife was a very loyal partner and had made great contributions in maintaining his wealth and kingdom. However, he did not love the first wife. Although she loved him deeply, he hardly took notice of her! One day, the King fell ill and he knew his time was short. He thought of his luxurious life and wondered, "I now have four wives with me, but when I die, I'll be all alone."

Thus, he asked the 4th wife, "I have loved you the most, endowed you with the finest clothing and showered great care over you. Now that I'm dying, will you follow me and keep me company?" "No way!" replied the 4th wife and she walked away without another word. Her answer cut like a sharp knife right into his heart. The sad King then asked the 3rd wife, "I have loved you all my life. Now that I'm dying, will you follow me and keep me company?" "No!" replied the 3rd wife. "Life is too good! When you die, I'm going to remarry!" His heart sank and turned cold. He then asked the 2nd wife, "I have always turned to you for help and you've always been there for me. When I die, will you follow me and keep me company?" "I'm sorry, I can't help you out this time!" replied the 2nd wife. "At the very most, I can only walk with you to your grave." Her answer struck him like a bolt of lightning, and the King was devastated. Then a voice called out: "I'll go with you. I'll follow you no matter where you go." The King looked up, and there was his first wife. She was very skinny as she suffered from malnutrition and neglect. Greatly grieved, the King said, "I should have taken much better care of you when I had the chance!"

In truth, we all have the four wives in our lives. Our 4th wife is our body. No matter how much time and effort we lavish in making it look good, it will leave us when we die. Our 3rd wife is our possessions, status and wealth. When we die, it will all go to others. Our 2nd wife is our family and friends. No matter how much they have been there for us, the furthest they can stay by us is up to the grave. And our 1st wife is our Soul, often neglected in pursuit of wealth, power and pleasures of the world. However, our Soul is the only thing that will follow us wherever we go.
Cultivate, strengthen and cherish it now, for it is the only part of us that will follow us to the throne of God and continue with us throughout Eternity.
[Author unknown; Contributed by Nibu Kurian from Fr. Muller's Med College, Mangalore]
Little Johny at his best
Teacher: Why are you late?
L-Johny: Because of the sign.
Teacher: What sign?
L-JJohny: The one that says, "School Ahead, Go Slow."

Teacher: Johny, why are you doing your maths sums on the floor?
L-Johny: You told me to do it without using tables!

Teacher: Johny, how do you spell "crocodile"?
L-Johny: "K-R-O-K-O-D-A-I-L"
Teacher: No, that's wrong
L-Johny: Maybe it's wrong, but you ask me how I spell it!

Teacher: What is the chemical formula for water?
L-Johny: "HIJKLMNO"!!
Teacher: What are you talking about?
L-Johny: Yesterday you said it's H to O!

Teacher: George, go to the map and find North America.
George : Here it is!
Teacher: Correct. Now, Johny, who discovered America?
L-Johny: George!

Teacher: Johny, name one important thing we have today that we didn't have ten years ago.
L-Johny: Me!

Teacher: Johny, why do you always get so dirty?
L-Johny: Well, I'm a lot closer to the ground then you are.

L-Johny: Dad, can you write in the dark?
Father : I think so. What do you want me To write?
L-Johny: Your name on this report card.

Teacher: How can you prevent diseases caused by biting insects?
L-Johny: Don't bite any.

Teacher: Johny, give me a sentence starting with "I".
L-Johny: I is...
Teacher: No, Johny. Always say, "I am."
L-Johny: All right... "I am the ninth letter of the alphabet."

Teacher: "Can anybody give an example of COINCIDENCE?"
L-Johny: "Sir, my Mother and Father got married on the same day same time."

Teacher: "George Washington not only chopped down his father's Cherry tree, but also admitted doing it. Now do you know
why his father didn't punish him?"
L-Johny: "Because George still had the axe in his hand."

L-Johny: Daddy, have you ever been to Egypt?
Father : No. Why do you ask that?
L-Johny: Well, where did you get THIS mummy then?

Teacher: What a pair of strange socks you are wearing, one is green and one is blue with red spots!
L-Johny: Yes it's really strange. I've got another pair of the same at home.

Teacher: Now, children, if I saw a man beating a donkey and stopped him, what virtue would I be showing?
L-Johny: Brotherly love.

Teacher: Now, Johny, tell me frankly do you say prayers before eating?
L-Johny: No sir, I don't have to, my mom is a good cook.

Teacher: Johny, your composition on "My Dog" is exactly the same as your brother's. Did u copy his?
L-Johny: No, teacher, it's the same dog!

Teacher: What do you call a person who keeps on talking when people are no longer interested?
L-Johny: A teacher

[Contributed by Michael Touch-River from Kingdom of Bahrain.]
TEN THINGS GOD WON'T ASK ON THAT DAY.
1... God won't ask what kind of car you drove. He'll ask how many people you drove who didn't have transportation.
2... God won't ask the square footage of your house, He'll ask how many people you welcomed into your home.
3... God won't ask about the clothes you had in your closet, He'll ask how many you helped to clothe.
4... God won't ask what your highest salary was. He'll ask if you compromised your character to obtain it.
5... God won't ask what your job title was. He'll ask if you performed your job to the best of your ability.
6... God won't ask how many friends you had. He'll ask how many people to whom you were a friend.
7... God won't ask in what neighborhood you lived, He'll ask how you treated your neighbors.
8... God won't ask about the color of your skin, He'll ask about the content of your character.
9... God won't ask why it took you so long to seek Salvation. He'll lovingly take you to your mansion in heaven.
10.. God won't have to ask how many people you shared this with, He already knows your decision.

JUST RELEASED
(ISPCK, DELHI)
A Must for Every Missiology Student
By James Chacko
Title
The Phenomenon of Christian Conversion with Particular Reference to its Theology in the Indian Context

About the Book
Conversion is an emotive word, often misunderstood; more often threatening due to the historical and socio-political factors in the Indian context. This work – an M. Phil. dissertation accepted by Andhra University, India – is an examination of the subject of conversion from theological standpoint to gain the true meaning and implications within the Indian context. It not only exhaustively investigates the subject from the Old and New Testament, but also examines relevant issues pertinent to the Indian context and the continued influence of this issue in the life and theology of the church. Any open dialogue about conversion is possible only on the basis of the clear understanding of the theology of conversion in its Biblical and contemporary context. This research work will ignite lively discussion on the issue of conversion; develop an attitude to conversion which will promote peace and harmony among followers of various religions and encourage further research in India.
Now Available for Rs.75
Send MO for Rs.85 including postage within India to:
# 949 FF/7, Panchkula HR 134109
First 50 orders will receive FREE Music DVD worth Rs.100
I AM ONE OF THE SEVEN PERCENT
A voyaging ship was wrecked during a storm at sea and only two of the men on it were able to swim to a small, desert like island. The two survivors, not knowing what else to do, agree that they had no other recourse but to pray to God.
However, to find out whose prayer was more powerful, they agreed to divide the territory between them and stay on opposite sides of the island.

The first thing the first man prayed for was food. The next morning, the first man saw a fruit-bearing tree on his side of the land, and he was able to eat its fruit. The other man's parcel of land remained barren.

After a week, the first man was lonely and he decided to pray for a wife. The next day, another ship was wrecked, and the only survivor was a woman who swam to his side of the land. On the other side of the island, there was nothing.

Soon the first man prayed for a house, clothes, more food. The next day, like magic, all of these were given to him. However, the second man still had nothing.

Finally, the first man prayed for a ship, so that his wife and he could leave the island. In the morning, he found a ship docked at his side of the island. The first man boarded the ship with his wife and decided to leave the second man on the island. He considered the other man unworthy to receive God's blessings, since none of his prayers had been answered. As the ship was about to leave, the first man heard a voice from Heaven booming,
"Why are you leaving your companion on the island?"
"My blessings are mine alone, since I was the one who prayed for them," the first man answered.
"His prayers were all unanswered, and so he does not deserve anything."
"You are mistaken!" the voice rebuked him.
"He had only one prayer, which I answered.
If not for that, you would not have received any of my blessings."
"Tell me," the first man asked the voice, "what did he pray for that I should owe him anything?"
"He prayed that all your prayers be answered."

For all we know, our blessings are not the fruits of our prayers alone, but those of another praying for us. When He died on the cross He was thinking of you! If you are one of the 7% who will stand up for him forward this with the title "I am one of the 7%". 93% of people won't forward this.
THE TRIP HOME
A pastor had been on a long flight between church conferences. The first warning of the approaching problems came when the sign on the airplane flashed on: Fasten Your Seat Belts. Then, after a while, a calm voice said, "We shall not be serving the beverages at this time as we are expecting a little turbulence. Please be sure your seat belt is fastened." As the pastor looked around the aircraft, it became obvious that many of the passengers were becoming apprehensive. Later, the voice on the intercom said, "We are so sorry that we are unable to serve the meal at this time. The turbulence is still ahead of us." And then the storm broke . . . The ominous cracks of thunder could be heard even above the roar of the engines. Lightning! Lit up the darkening skies, and within moments that great plane was like a cork tossed around on a celestial ocean. One moment the airplane was lifted on terrific currents of air; the next, it dropped as it were about to crash. The pastor confessed that he shared the discomfort and fear of those around him. He said, "As I looked around the plane, I could see that nearly all the passengers were upset and alarmed. Some were praying. The future seemed ominous and many were wondering if they would make it through the storm. "Then, I suddenly saw a little girl. Apparently the storm meant nothing to her. She had tucked her feet beneath her as she sat on her seat; she was reading a book and every thing within her small world was calm and orderly. "Sometimes she closed her eyes, then she would read again; then she would straighten her legs, but worry and fear were not in her world. When the plane was being buffeted by the terrible storm when it lurched this way and that, as it rose and fell with frightening Severity, when all the adults were scared half to death, that marvelous child was completely composed and unafraid." The minister could hardly believe his eyes.

It was not surprising therefore, that when the plane finally reached its destination and all the passengers were hurrying to disembark, our pastor lingered to speak to the girl whom he had watched for such a long time. Having commented about the storm and the behavior of the plane, he asked why she had not been afraid. The child replied, "Cause my Daddy's the pilot, and he's taking me home."

There are many kinds of storms that buffet us. Physical, mental, financial, domestic, and many other storms can easily and quickly darken our skies and throw our plane into apparently uncontrollable movement. We have all known such times, and let us be honest and confess, it is much easier to be at rest when our feet are on the ground than when we are being tossed about a darkened sky.
Let us remember: Our Father is the Pilot. He is in control and taking us home. Don't worry!

THE SILVERSMITH STORY
One of the women offered to find out the process of refining silver and get back to the group at their next Bible Study. That week, the woman called a silversmith and made an appointment to watch him at work. She didn't mention anything about the reason for her interest beyond her curiosity about the process of refining silver.

As she watched the silversmith, he held a piece of silver over the fire and let it heat up. He explained that in refining silver, one needed to hold the silver in the middle of the fire where the flames were hottest as to burn away all the impurities. The woman thought about God holding us in such a hot spot; then she thought again about the verse that says: "He sits as a refiner and purifier of silver." She asked the silversmith if it was true that he had to sit there in front of the fire the whole time the silver was being refined. The man answered that yes, he not only had to sit there holding the silver, but he had to keep his eyes on the silver the entire time it was in the fire. If the silver was left a moment too long in the flames, it would be destroyed. The woman was silent for a moment. Then she asked the silversmith, "How do you know when the silver is fully refined?" He smiled at her and answered, "Oh, that's easy -- when I see my image in it"

If today you are feeling the heat of the fire, remember that God has his eye on you and will keep watching you until He sees His image in you.