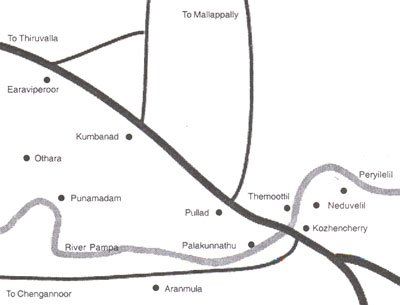 Our roots go back to Maramon Palakunnathu family. The following passage quoted from the book 'History of Palakunnathu Family' should aptly describe our history as well.
"The history of the present Palakunnathu family begins around the banks of river Pampa. Our forefathers were involved in agriculture and they preferred to settle in fertile lands. Thus they came to Maramon. Among the six sons of Palakunnathu Mathen, the first one (Kurian Pillai), the fifth (Thoma Malpan) and the youngest one (Mathew) continued to live at Maramon as neighbours. The second (Easow) and the third (Kurien) moved to the opposite side of the river and lived at Keezhukara (Kozhenchery), about two kilometers from the ancestral home. The fourth one (Mathen Punnamadam) moved to Othara about ten kilometers from Maramon."

We are the descendants of Kurian Pillai, eldest son of Mathen Palakunnathu. He moved from his ancestral home at Palakunnathu Madam and lived at Themoottil house.
The map shown here of Maramon and surrounding areas where the children of Palakunnathu Mathen lived in the nineteenth century is copied from the book 'History of Palakunnathu Family'.