A web site of this nature may be rare now, but I am sure there will be many more in future. Contents of this site may be of little or no importance to many Internet surfers. But, it should be meaningful and beneficial for the members of this family. For them, it becomes more important considering the geographical distances they are apart and the increasing dependency on Internet. To know one's own roots is a basic instinct.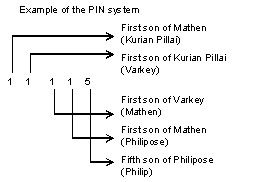 The numbers shown in this site to identify the members has reference to the PIN system used by the Palakunnathu Kudumba Charitra Committee (see example) in a recently published (2003) book called History of Palakunnathu Family. Accordingly, the number (111,15) assigned to the head (Philip) of Pullad Kunnapuzha family means he is the fifth son (number 5) and fifth descendent (fifth place) of Kurian Pillai, Palakunnathu Themoottil.

The same numbering system is followed to identify all the members of this family.
To receive love and affection from brothers, sisters and their children is a blessing. But, to have dozens of them around at childhood is something special. With forty children in the family, an uncle of almost the same age as that of his niece, was special. This Kochu Uppappan (little uncle) was affectionately called Kochuppan not only by these children, but also by his brothers, sisters, parents, relatives and even friends. This web is a dream come true for the little uncle who would like to see all forty children, their children and grandchildren continue to remain bonded.